Blizzard and NetEase have ended their partnership in China. This means that players from the Middle Kingdom no longer have access to World of Warcraft, Diablo or Overwatch 2. The two studios could not find an agreement to continue their collaboration.
Chinese fans of World of Warcraft, Diablo games orOverwatch 2 only have their eyes left to cry. It is indeed today that the partnership between Blizzard and NetEase, its local publisher, comes to an end. A painful divorce for both parties.
The two companies were unable to renew their current agreement dating from 2019. Details are unknown, but the announcement was made last November. Blizzard reportedly insisted on extending the deal over a period of six months to allow time to find a new partner, which Netease refused.
Blizzard and Netease, a painful divorce
It's a long story that ends today, since NetEase has been distributing Blizzard games for fourteen years in its country. The Warcraft-mania of the heyday in China? It was NetEase.
The divorce seems to have been tumultuous between the two behemoths. NetEase has multiplied the low blows with regard to Blizzard. For example, a stream was made in front of the publisher's premises in which we could see the ax of Garrosh Hellscream, one of the emblematic characters of WoW, being destroyed live. More so, a new drink has appeared in the campus cafeteria: Blizzard Green Tea, a reference to a Chinese slur that describes vicious and manipulative women. Big atmosphere.
The event that caused the internal war is not known. Nevertheless, a LinkedIn message from one of the pundits of NetEase, Simon Zhu, gives some keys. Published in November 2022 when the end of the partnership was announced, this post affirms that "one day, what happened behind the scenes will be revealed". He adds "The players will then understand what damage an asshole can do". Who is the asshole in question ? Zhu does not say it, but many observers see the figure of Bobby Kotick, the president of Activision-Blizzard.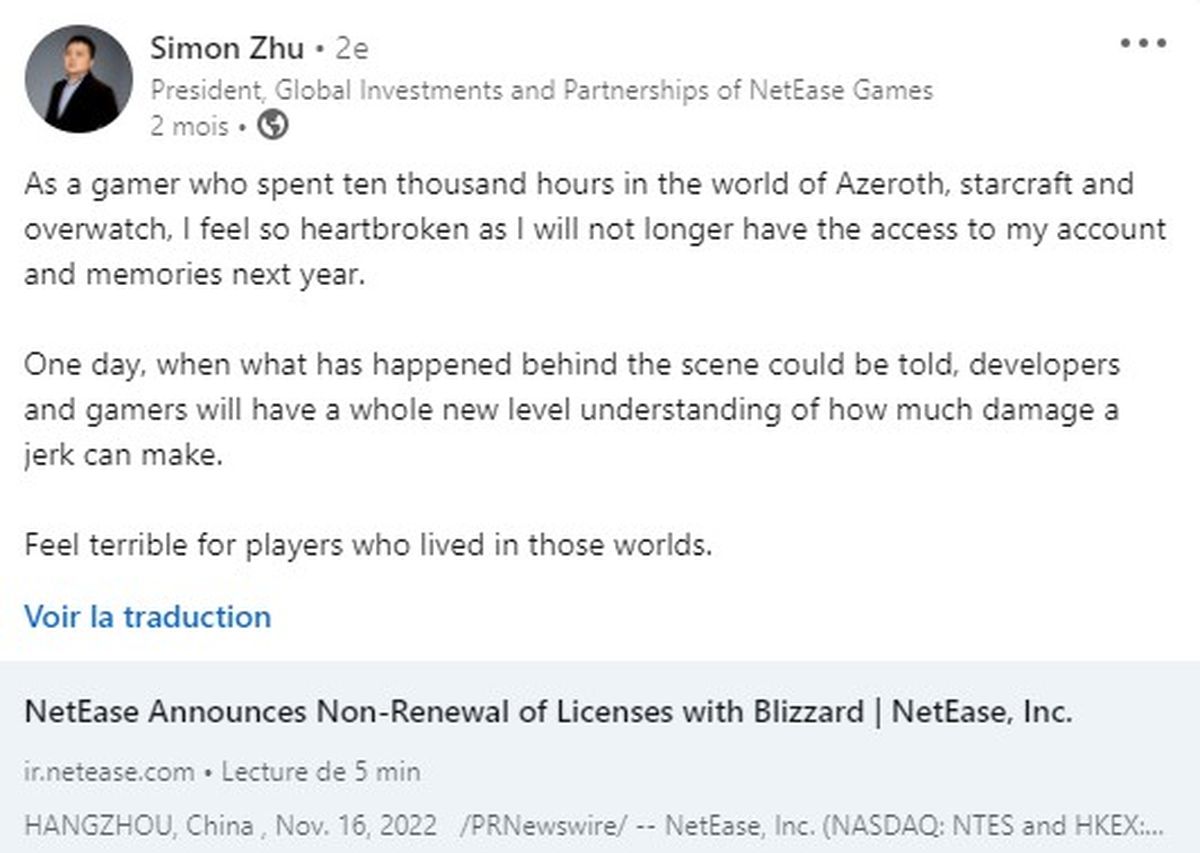 Millions of players are losing access to World of Warcraft
This divorce is above all a dispute that penalizes millions of players. As reported CNN, many World of Warcraft fans no longer have access to their favorite game, sometimes losing characters in which they have been invested for years. Same thing for the other titles of the studio. Alone Diablo Immortal, developed hand in hand by Blizzard and NetEase, is still accessible. Blizzard is trying to reassure everyone by saying that a backup tool has been put in place, but the thing is still unclear.
Read also – Diablo 2 Resurrected review: evil is back and it feels good
As a reminder, Activision-Blizzard is going through an important period in its history. The company is in the process of being acquired by Microsoft. If this transaction is confirmed during the year, the cards will be totally redistributed. For the moment, nothing is done yet, the FTC (US competition regulator) has filed a complaint against Microsoft on the subject.
This case benefits others. Tencent, another Chinese gaming giant, unveiled with perfect timing its next MMO: Tarisland. Its particularity is simply to be a clone of World of Warcraft. What to seduce the players left on the floor? We will see.
Blizzard could soon find a new partner in the country, but for the moment, nothing has been done yet. China is a major challenge for the studio, since it represents more than a billion potential customers.