Become invisible: if this "superpower" remains a myth in humans, it is however a very real ability for many animal species, especially in the marine environment.
However, among terrestrial vertebrates, it is a real biological feat due in particular to the presence, in the blood of these animals, of red blood cells – the cells loaded with hemoglobin that transport oxygen from the lungs to the tissues.
⋙ Pacman frog, terrible phyllobate, strawberry dendrobate: Discover the most amazing frogs
When the glass frog falls asleep, even his blood fades
The term "glass frog" designates no less than 150 species of amphibians, native to the tropical forests of Central and South America. These have in common the fact of having a transparent skin revealing their organs. During the day, which corresponds to their period of rest, these sleeping frogs clinging to leaves become almost invisible, since even the blood circulating in their organism seems to disappear.
The authors of a study published in the journal Science have unlocked the secret of this mysterious camouflage. To achieve this, they used photoacoustic imaging – a painless method of inducing, using a powerful beam of light, the propagation of sound waves from hemoglobin in order to be able to locate red blood cells with precision in the body of the animal.
According to their results, resting glass frogs manage to double or even triple their transparency by storing almost all (89%) of their red blood cells in the liver. However, this organ is covered with a reflective surface composed of guanine crystals, whose mirror effect conceals the colored cells.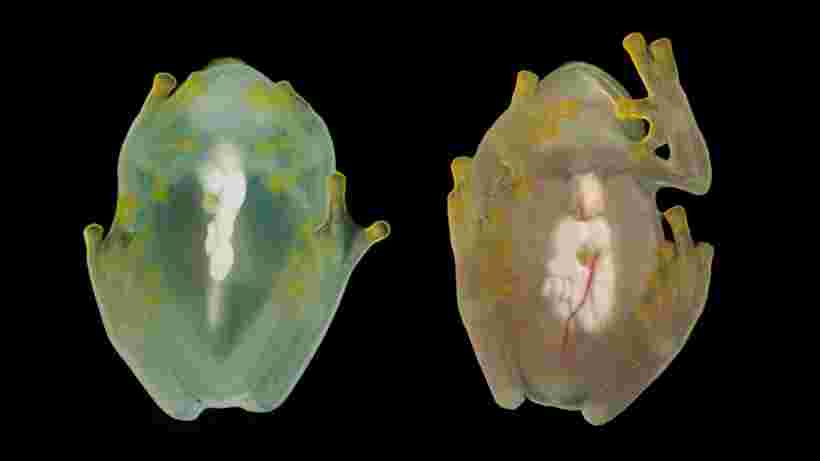 New avenues for medical research
This amazing process should logically increase blood clotting, and therefore the risk of a potentially fatal blood clot; however, this is not the case, the authors of the study are surprised. A conclusion which, according to them, could open up new avenues in biomedical research and lead to advances in human health – in particular through the development of new anticoagulants to prevent heart attacks, for example.
⋙ The wood frog, able to freeze without dying
"The coagulation process in frogs isn't all that different from humans, so anything we learn from amphibians might end up being relevant to human coagulation.", thus affirms Sönke Johnsen, professor of biology at Duke University in North Carolina and co-author of the study, questioned by LiveScience. But for that, it will first be necessary to unravel the mystery of the molecular mechanism at work… for the moment unknown.
Read also :