We continue to catch up on live CES 2023 news with Kensington. The Californian company took advantage of the event to present several products that will catch the attention of people working from home. On the menu, we discover their new docking stations, trackballs, a silent mechanical keyboard, a Bluetooth headset and a security cable. We reveal all the details.
We also offer you our other article on the company's flagship products.
Four universal docking stations
Let's go first with the portable docking station MD120U4 USB4. It includes the latest USB4 technology which makes it compatible with a wide range of products. We are talking about ports for USB4, USB-C 3.2, Thunderbolt 4 and Thunderbolt 3 devices running Windows, macOS, iPadOS or Samsung DeX. There are also two HDMI 2.1 ports offering up to 8K at 60 Hz for a single monitor and up to 4K at 120 Hz for two monitors. With a USB‑C power adapter (at least 80W) you can charge your computer while using other connected devices.
Still at the top of the range, Kensington also presented the SD5780T Thunderbolt 4 Dual 4K/6K station. It has a video output that can go up to a resolution of 8K at 60 Hz or 4K at 120 Hz if you have a compatible device. However, it is above all the total of 11 connectivity ports that impresses the most, including 4 USB-A 3.2 and a card reader, SD.
For even more portability, the SD1700P USB-C Dual 4K station with Qi Charging (see photo above) is for you. In addition to being compact and simple, it can be used to charge your phone without the need for a cord. To this, we add 2 HDMI ports, a USB-C, an Ethernet port and two USB-A 3.2 ports.
Kensington will also have a fourth universal station which will be available in Q2-2023 and which promises several interesting innovations. This one will mix the station concept with a laptop stand which is a perfect mix for those who want to maximize their ergonomics.
A new headset
For those shopping for a quality helmet, the H3000 over-ear Bluetooth headphones is a good solution. The latter is equipped with the latest Bluetooth 5.2 technology and allows up to 60 hours of music autonomy and more than 40 hours of calls. It also benefits from passive noise cancellation technology to avoid distractions. Finally, for comfort, it features an over-ear design, an adjustable headband, cooling gel-filled ear cups, and a swiveling microphone and ear cups.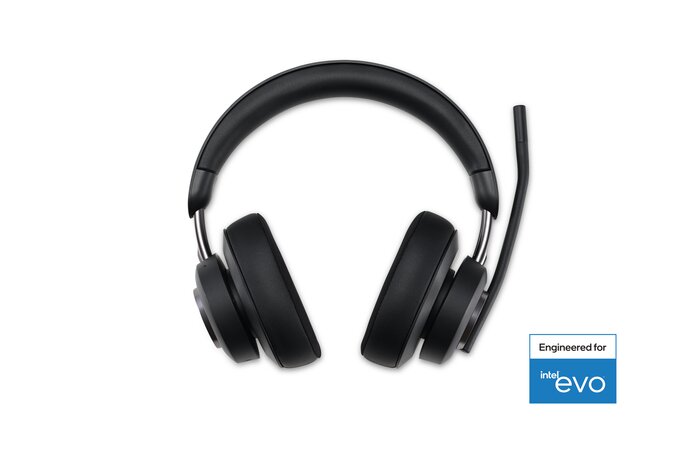 Kensington offers a silent mechanical keyboard
As a gamer, I'm always a little embarrassed to use my mechanical keyboard with work as it makes so much noise. This kind of keyboard is great for gamers as it reduces response time, but it's less practical in everyday life. Now, here is Kensington coming up with THE perfect solution for me with a keyboard that makes less than 55 dB of sound. In addition, the company promises us comfort and durability with this one. It is a beautiful product that I will definitely go and get myself soon.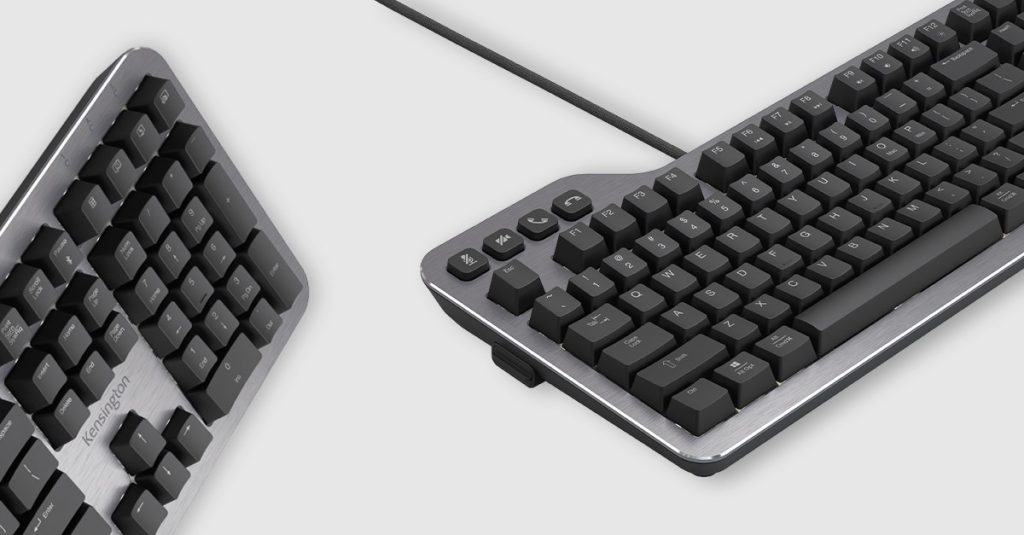 Three trackballs, including two for beginners
Ever since I got my hands on a Kensington trackball, I don't want to put it down. On the other hand, I must admit that adoption may seem imposing at first sight. With the Pro Fit Ergo TB450 and TB550 models, Kensington offers two affordable and easy-to-use trackballs. Indeed, both require only the use of the thumb and are equipped with a design closer to a regular mouse.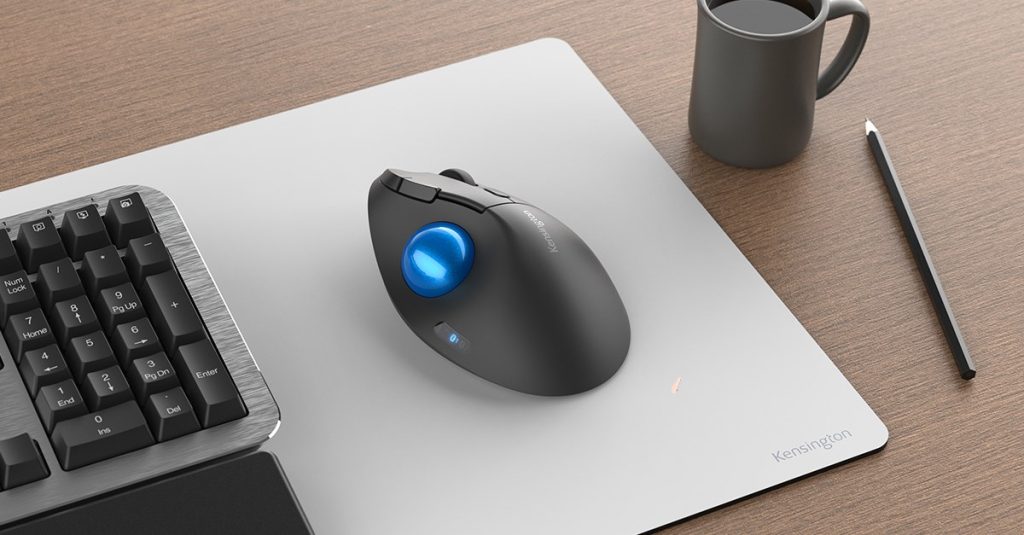 For the most knowledgeable, Kensington has unveiled its Slimblade Pro TB B2B trackball. It takes advantage of all of the company's expertise in this area by offering a product that is more precise and ergonomic than ever. It is also available now at Kensington partner retailers.
Kensington also innovates with security cables
Finally, the Californian company also had innovations for its flagship products: safety cables. The Nano range is so thin and light that it is 70% smaller than its other cables. In addition to being sturdy, these are thin and are shaped to allow even the thinnest computers to be stable on surfaces. For more details, it's this way.