The completely revised System Settings in macOS Ventura have not finished giving developers a hard time. Even if the betas have corrected its biggest visual bugs, this app coded in SwiftUI contains others, like its poor management of RAM, noted by the site AAPLCh2. Each section of the app uses a little bit of RAM, which makes sense, but System Settings doesn't clear that memory as long as it's open.
After opening System Settings and navigating through many of its sections, I opened Activity Monitor, the app that comes with macOS for keeping tabs on a Mac's resource usage. By filtering the list to keep only the processes linked to the successor to System Preferences, I was still left with about forty items that took up more than 880 MB of RAM. All this memory remains in use as long as the app is active and will only be "returned" to the system and other apps when it is closed.
There's worse: if you open the "Screensaver" section, macOS Ventura generates an animated preview to give an idea of ​​the rendering of the selected screensaver. It's a good idea, but this preview can use a lot of RAM. Selecting the new saver that comes with Ventura consumed no less than 2.4 GB of RAM on my Mac just for this display. As for the rest, this large quantity is not properly emptied when the section is closed. The website AAPLCh2 says it's not even the case when System Settings is exited, but I couldn't reproduce this bug.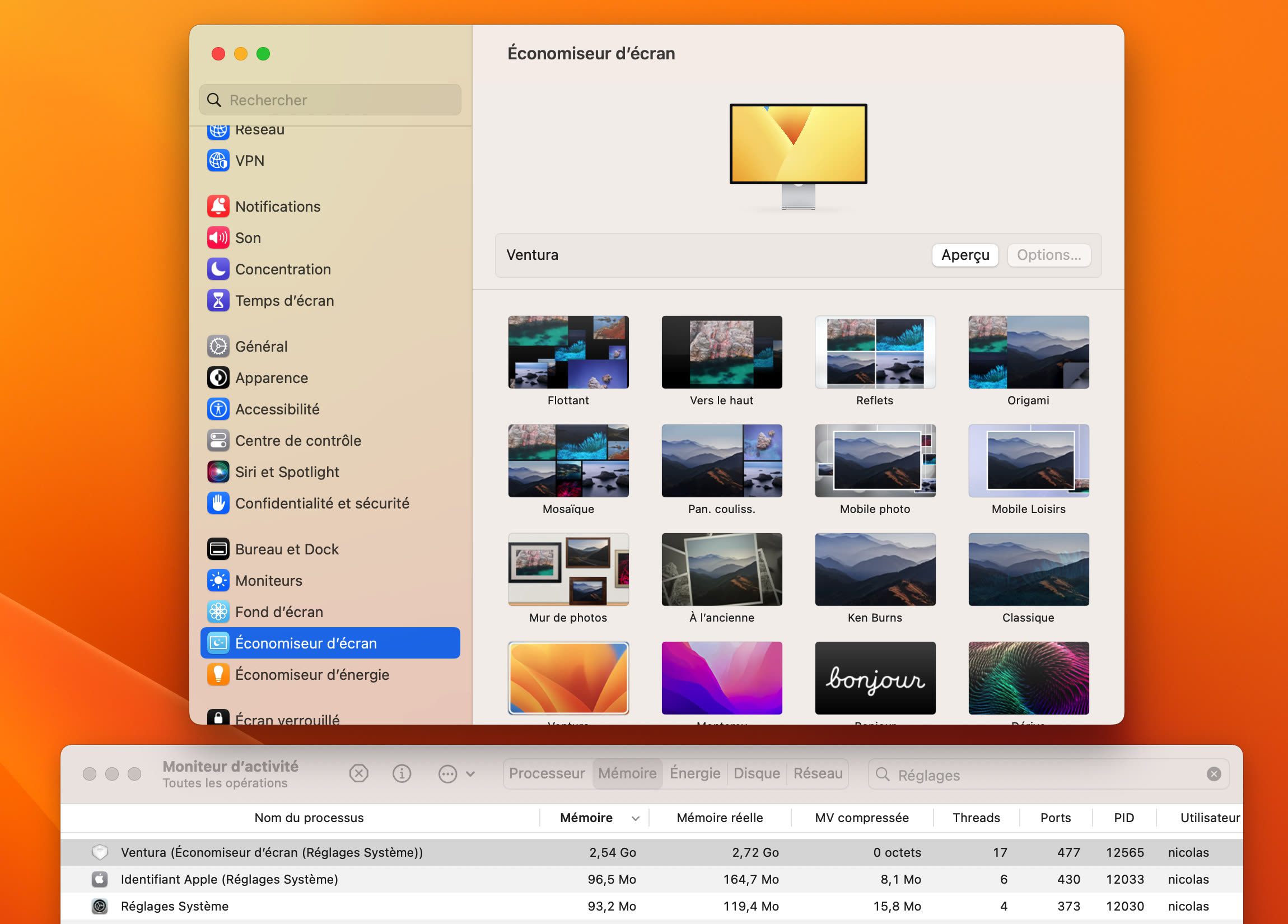 However, I noticed another bug related to the poor use of resources by System Settings. In the "Trackpad" section, the animations that explain each gesture and replace videos that we had in the System Preferences consume processor, even when they are no longer visible. On my Mac Studio, the section continues to consume between 3 and 5% of the CPU even when it is no longer on the screen. I imagine that the animation is not properly interrupted when changing sections, which would explain this behavior.
Such CPU usage is not huge of course and it is totally invisible on my computer. This remains a wasted resource and can have an impact on Macs that are lighter in resources, or on the autonomy of a laptop. Let's hope that Apple devotes more development time to this app, at least to fix these bugs.

.