There aren't many video games that put comedy at the center of its concept. Who better than Justin Roiland, co-creator of rick and morty, to take this path? Casually, his studio Squanch Games was already on its fourth creation since its founding in 2016. Since its release, High on Life has been one of the most popular Game Pass titles. Like his other works, the title is a funny bug and I'll break it all down for you in my test.
High on Life Data Sheet
Release date : December 13, 2022
Style : HASction-adventure, first-person shooter
ESRB / PEGI rating: M17+ / 18
Developer: Squanch Games
Publisher: Squanch Games
Operating language: English dubbing with French subtitles
Available on : PC, Xbox One and Xbox Series X|S
Tested on Xbox Series X
Price during the test: $76.99 CAD / €59.99 or included with Game Pass
Version sent by'editor
An Unexpected Journey
Earth is invaded by the extraterrestrial organization G3 Cartel who wants to annihilate its population to make drugs. When our protagonist comes out of the house to witness the attack, he gets his hands on a powerful talking gun. Thanks to it, he repels the attack and transports his whole house (and his sister) to another planet. With the help of his new companion, our hero turns into a real bounty hunter and will try to eliminate the cartel.
The premise is wacky like everything else in the game and I expected nothing less from Justin Roiland. The script constantly puts us in front of wacky situations that constantly push back the limits that I thought were established in video games. In fact, there is a success called "You can't do that in Fallout", which shows that the developers are fully responsible. The game will even test the limits of your patience by taunting us with some of its NPCs. I didn't shy away from trying to get a few out and, to my surprise, the game didn't stop me.
High on Life even goes so far as to become aware of more mundane gestures such as leaving a conversation with an NPC. This one will make us a remark of the kind: "I see that I am not interesting". It's also the kind of adventure whose universe you want to fully absorb. So being patient, observing and talking with certain characters will often lead to some funny surprises. It even goes so far that you can listen to the whole of the strange 1994 film Tammy and the T-Rex with Paul Walker in the living room of our house. The absurdity of the scenario of this film fits perfectly with the game and demonstrates the madness of the developers.
When the game speaks to us
However, the scenario is delivered particularly well thanks to our alien guns which constantly speak to us. I don't think the title would have had such a big impact without Justin Roiland, Michael Cusac, JB Smoove and the others who accompany us at all times with their voices. It keeps the game interactive at all times, especially since the comments are mostly very well placed. It may be too raw sometimes for some, but I love it.
On the other hand, each has a very different personality which allows them to stand out. For example, Kenny who is played by Roiland is much more frail and always seems worried about our every move. While our Knifey Knife, narrated by Cusac, speaks like a bloodthirsty bloodthirsty beast. So they complement each other wonderfully and the designs match well with the voices and personalities of each weapon.
In addition, being in a first-person shooter gives us the impression that we are always addressed directly. Especially since the weapons have eyes that usually point in our direction and the main character has no voice. The immersion is really complete that way.
And the gameplay?
We all understand that the game is very funny, but that does not mean that the complete experience will be good. In my opinion, without being exceptional, High on Life plays on a good foundation to make its gameplay attractive. First, my closest comparable would be Journey to the Savage Planet by Typhoon Studios. Exploring different alien environments with weirdly designed creatures is similar just like weird guns. In fact, even at the level of puzzles and elements of 3D platformers, I see similarities.
Where the two diverge is that Roiland's game is a bit easier. Most enemies, even when they are numerous, are never a big threat. I don't remember being dead outside of a few bosses. By the way, speaking of bosses, I really liked their mechanics for defeating them. It reminded me of some bosses in Borderlands. You have to be on the move constantly and be ready to anticipate every attack.
Finally, the grip at the shooting level is very successful. I never felt like I had bad control over my shots or my aim. The selection of weapons is sufficiently varied and there is interest in exploring each area to find the few hidden treasures. These give us money to spend at stores to improve some of our attributes. In short, although it does not revolutionize anything, the gameplay is simple and pleasant.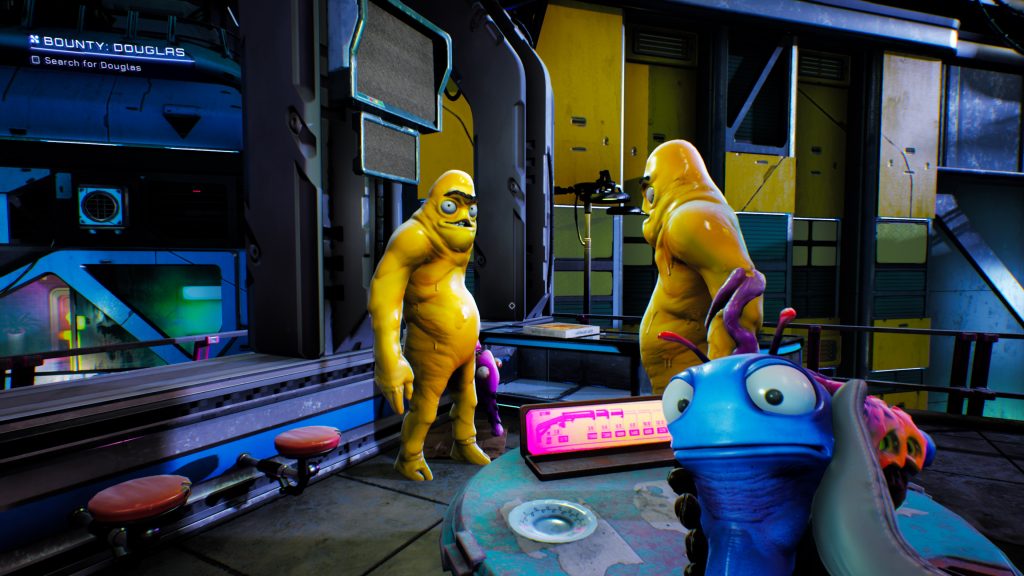 His artistic signature
Visually, I think you immediately recognize the artistic touch of the creator of rick and morty. There is a unique way to make the eyes of the characters and even the eyebrows for some that we recognize immediately. I think it adds to the wacky side of the game and an interactive cartoon side for adults that I like. There's also something quite ironic about seeing creatures that look like little teddy bears who have become enslaved by the cartel and are depressed about life.
In terms of environments, High on Life is also very colorful which fits well with the name of the game. We constantly have the impression that our bounty hunter is stuck in a trippe of acid that is a little too strong. Then, I did not know at all the Tobacco musician, known for his electronic music, which composed the plot. This perfectly accompanies the game and immerses us even more in the extraterrestrial universe. It's a big hit for me.
Finally, I still had a few minor bugs that forced me to resume from my last save. Luckily, they're fairly consistent, so I only lost a few seconds. It never got frustrating and only happened 3 times. The rest of the game is very smooth and runs perfectly in 4K 60fps on my Xbox Series X.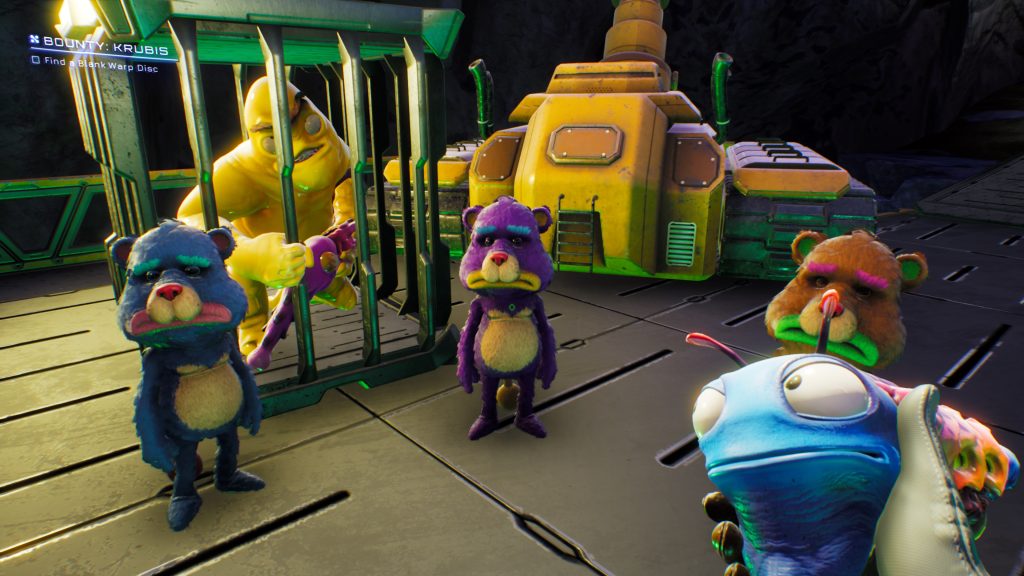 Verdict on High on Life
In closing, High on Life is a nice surprise to end the year. It's the kind of experience I want to see on Xbox Game Pass because it's unique and without the platform I probably would have missed out. If you like Justin Roiland's series or have enjoyed series like Futurama, you will find the same level of absurd humor. The game sets itself apart by pushing certain conventions and regularly breaking the fourth wall to speak to us directly. In short, it's a nice little adventure that Game Pass subscribers must try.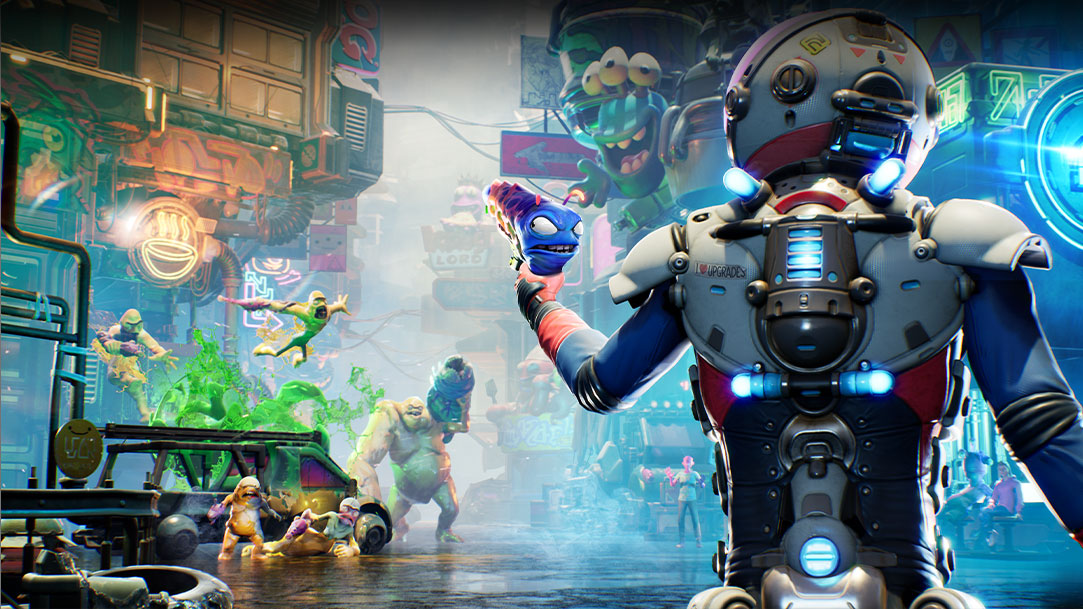 High on Life review: the genius of Justin Roiland
The level of humor is excellent
We push back several video game conventions
How the game breaks the 4th wall
The voice acting is excellent
Simple gameplay
The very colorful universe and its immersive soundtrack
Some minor bugs
Doesn't reinvent anything at the shooter level
Some NPCs are aggressive